How It Works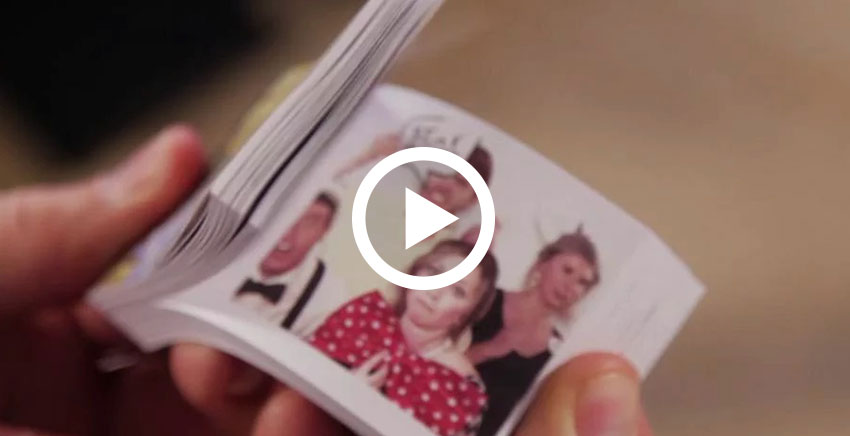 From soup-to-nuts, here's how it all works:
A 10 x 10 mobile studio is set up at your event
Party people stand in front of the camera with props or branded swag
A short video is taken while they make a short movie
Once they review the video and like it, we print the video, slice/dice it in our cutter and bind the small book right in front of their very eyes
When they flip through the flip book, they will smile in astonishment that they can see their video inside
It's that simple. The whole process just takes minutes! Partygoers and guests will forever have a customized keepsake from your event.
---
FAQs
We know you have questions about A Little Scene Flip Books and how this crazy fun flip book experience works. So, to help you better understand how it all works, here is a quick list of frequently asked questions.
What is a flipbook?
Our flipbooks are a small book with a series of pictures. When the pages are turned rapidly, the pictures animate your 7 second video clip shot at our mobile flip book station.
How much does it cost to have A Little Scene at my event?
We book events by the hour and have a minimum of two/three hours of service for events. For more pricing information, please contact us and we'll shoot you over some pricing information!
What can you customize?
We can customize every aspect of our flip book station. Starting with the covers, the backdrop, the digital experience, the props, and pretty much anything else you can dream up.
How many flip books can you make in an hour?
We average as many as 45-60 flip books per hour, but it really depends on your guest participation.
---
Packages
We're super happy that you're considering us for your event. We've made our service packages as simple as possible for you. Just tell us how many hours you want our flip book station for and we'll take care of the rest.
Click on "Get a Quote" below and you'll be pleasantly
surprised how instant our quotes are!
Additional Options
Custom backdrop
Custom Props
---